888 to 8 Gen 1, let's see what the new naming schema of Snapdragon SOCs (System on Chip) done by Qualcomm or Snapdragon (As they are now two separate brands) looks interesting and more leaning toward the Desktop Processors like the naming of INTEL processors. Leaving that aside, Qualcomm is known for setting the benchmark, and with Snapdragon 8 Gen 1 that seems true once again.
Snapdragon is known for the premium experience that it delivers with its processors, the best in the whole industry. Snapdragon SOCs are always engineered with the latest technology to present in the market.
AI, Connective, Photography, and Gaming are the areas where the Snapdragon 8 Gen 1 has mostly been improved from its predecessor SD 888.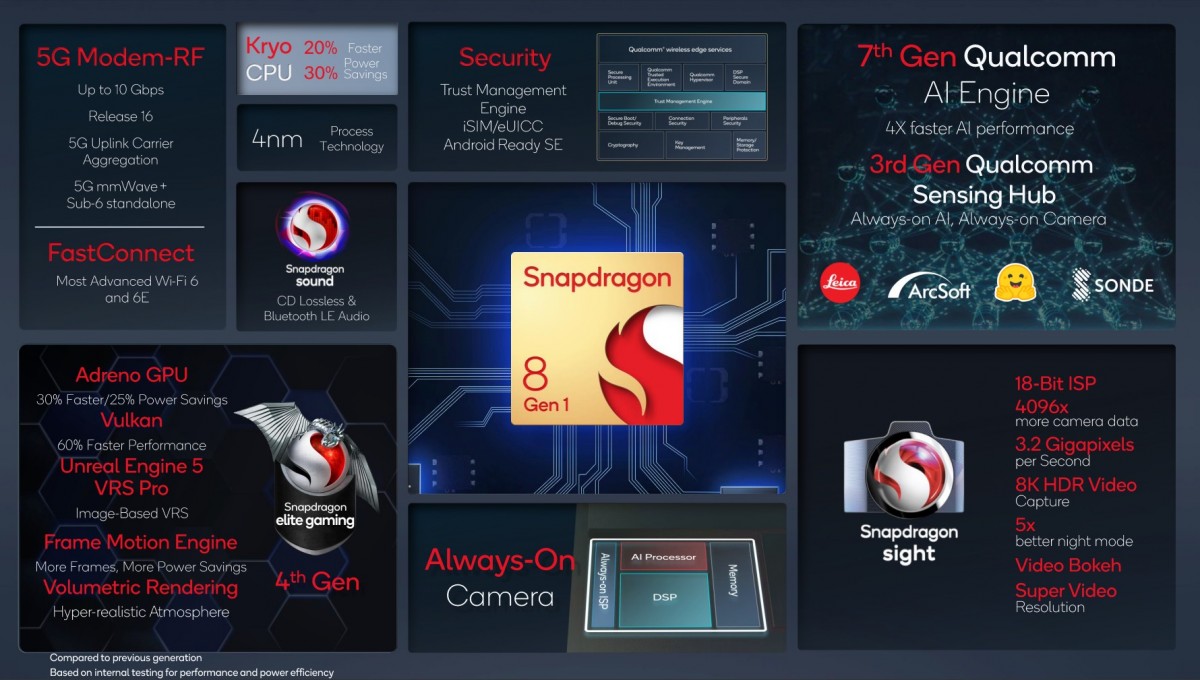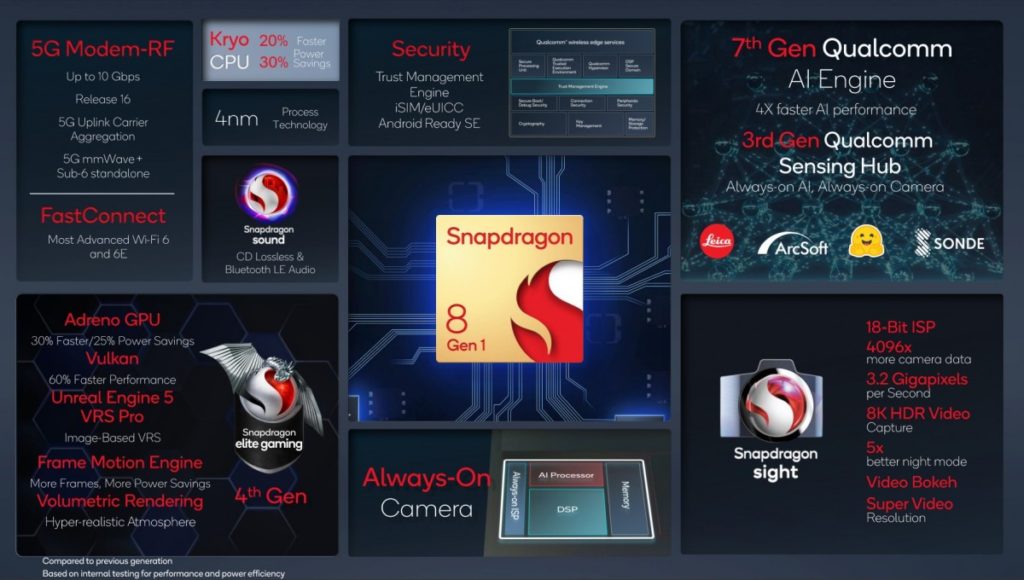 AI
The 7th Gen Qualcomm AI engine is 4x faster than its predecessor. This AI engine has been created to capture the legendary bokeh in the images a mode that Snapdragon calls Leica's Leitz Look Mode. It also focuses on natural language processing like hugging faces and more. It has been fabricated with 2x larger shared memory plus a 2x tensor accelerator for the best performance per watt.
Connectivity
5G with the 4th Gen Snapdragon X65 5G Modem-RF System is reaching the speeds of 10 Gigabit with is Worlds first technology introduced by Snapdragon. Support for more network, frequencies, and bandwidth globally plus support for all-day battery life. Downloading content can be done in seconds and streaming games will be smooth like never before. It also has the world's first 5G uplink carrier aggregation for better upload speeds.
Qualcomm® FastConnect™ 6900 Mobile offers the fastest Wi-Fi 6 and 6E speeds up to 3.6 Gbps. Snapdragon Sound with Qualcomm® aptX™ Lossless Technology for CD-quality lossless wireless audio.
Photography
Snapdragon has introduced new technology in the field of photography called Snapdragon Sight. The first-ever 18-bit ISP (Image Signal Processing) can capture pictures and videos in extreme dynamic range with vivid color and clarity. First time in Mobile we are able to record 8K HDR video with a great number of details and over a billion shades. For low-light photography, 30 images are clicked and merged into one bright picture to get the best out of all.
Gaming
There is a lot in gaming too, Snapdragon Elite Gaming Features with Qualcomm Adreno GPU offers 30% faster graphics rendering and increase power efficiency by 25%. For immersive and console-quality sound in games, there is Audiokinetic technology that offers the best.
All the flagship of the year 2022 will come with the new Snapdragon 8 Gen 1. Snapdragon 8 Gen 1 is expected to come in phones like Galaxy S22, Xiaomi 12, OnePlus 10, OPPO Find X5, Vivo X80 in 2022. Here's the full list of manufacturers using the Snapdragon 8 Gen 1:
SDG1 has got a score of 1016424 in AnTuTu 9. This score is the highest of all the processors produced by Qualcomm.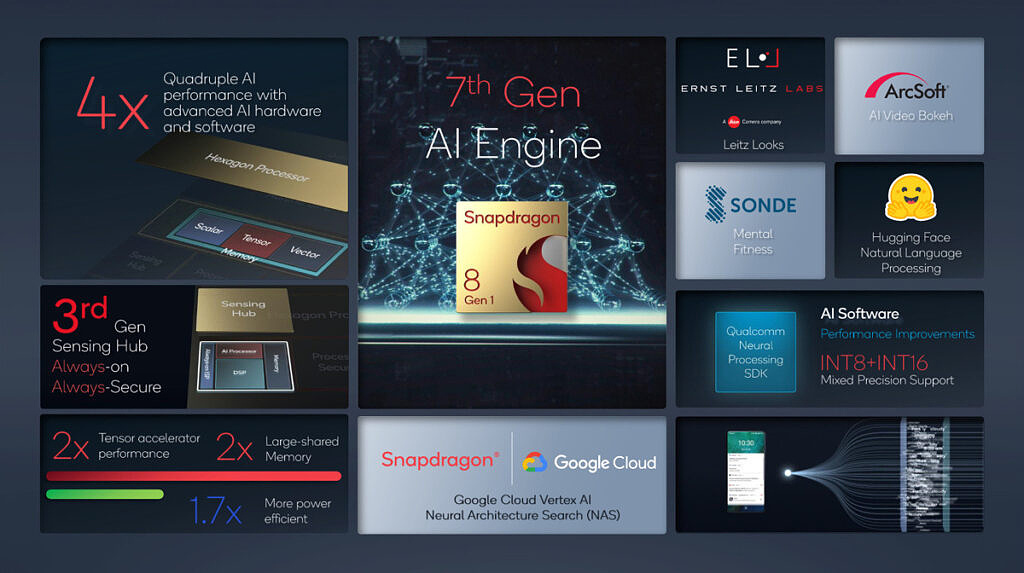 Snapdragon 8 Gen 1 Specifications
Qualcomm® Artificial Intelligence (AI) Engine
AIE GPU: Qualcomm® Adreno™ GPU
Always-on AI: Qualcomm® Sensing Hub
AIE CPU: Qualcomm® Kryo™ CPU
Hexagon Processor: Fused AI Accelerator architecture, Qualcomm® Hexagon™ Vector eXtensions (HVX), Qualcomm® Hexagon™ Scalar Accelerator, Qualcomm® Hexagon™ Tensor Accelerator
CPU
CPU Clock Speed: Up to 3.0 GHz
CPU Cores: Qualcomm® Kryo™ CPU
CPU Architecture: 64-bit
Cellular Modem-RF
Modem Name: Snapdragon™ X65 5G Modem-RF System
Peak Download Speed: 10 Gbps
Cellular Modem-RF Specs: 8 carriers (mmWave), 2×2 MIMO (mmWave), 4×4 MIMO (Sub-6)
Performance Enhancement Technologies: Qualcomm® 5G PowerSave 2.0, Qualcomm® Smart Transmit 2.0 technology, Qualcomm® Wideband Envelope Tracking, Qualcomm® AI-Enhanced Signal Boost
Cellular Technology: 5G mmWave and sub-6 GHz, FDD, 5G NR, Dynamic Spectrum Sharing (DSS), SA (standalone), TDD, NSA (non-standalone), sub-6 GHz, HSPA, WCDMA, LTE including CBRS support, TD-SCDMA, CDMA 1x, EV-DO, GSM/EDGE
Multi-SIM: Global 5G Multi-SIM
Wi-Fi
Wi-Fi/Bluetooth System: Qualcomm® FastConnect™ 6900
Peak Speed: 3.6 Gbps
Standards: 802.11ax, Wi-Fi 6E, 802.11ac, 802.11a/b/g/n
Wi-Fi Spectral Bands: 2.4 GHz, 5 GHz, 6 GHz
Peak QAM: 4K QAM
Wi-Fi Features: 4-stream Dual-band simultaneous (DBS), OFDMA (Uplink and Downlink), MU-MIMO (Uplink and Downlink)
MIMO Configuration: 2×2 (2-stream)
Bluetooth
Wi-Fi/Bluetooth System: Qualcomm® FastConnect™ 6900
Bluetooth Specification Version: Bluetooth 5.2
Bluetooth Features: Dual Bluetooth antennas, LE Audio Features, Snapdragon Sound™ technology suite
Location
Satellite Systems Support: Beidou, Galileo, GLONASS, NavIC, GPS, QZSS
Dual Frequency Support: Yes (L1/L5)
Accuracy: Urban pedestrian navigation with sidewalk accuracy
Additional Location Features: Global freeway lane-level vehicle navigation
NFC
Near Field Communications: Supported
USB
USB Version: USB 3.1, USB-C
Camera
Image Signal Processor: Qualcomm Spectra™ image signal processor, Triple 18-bit ISPs, Hardware accelerator for computer vision (CV-ISP)
Triple Camera, MFNR, ZSL, 30fps: Up to 36 MP
Dual Camera, MFNR, ZSL, 30fps: Up to 64+36 MP
Single Camera, MFNR, ZSL, 30fps: Up to 108 MP
Single Camera: Up to 200 MP
Camera Features: Multi-frame Noise Reduction (MFNR), AI-based face detection, auto-focus, and auto-exposure, Locally Motion Compensated Temporal Filtering, Low light photography architecture
Slow Motion Video Capture: 720p @ 960 FPS
Video Capture Formats: Dolby Vision, HDR10, HDR10+, HLG
Video Capture Features: 4K Video Capture @ 120 FPS, 8K video capture at 30fps, Bokeh Engine for Video Capture, Video super-resolution
Video Capture: 8K HDR Video Capture + 64 MP Photo Capture
Video Playback
Codec Support: Dolby Vision, HDR10+, HDR10, HLG, H.264 (AVC), H.265 (HEVC), VP8, VP9
Video Playback: HDR Playback Codec support for HDR10+, HDR10, HLG, and Dolby Vision
Display
Max On-Device Display: 4K @ 60 Hz, QHD+ @ 144 Hz
Max External Display: Up to 4K @ 60 Hz
HDR: HDR10+, HDR10
Color Depth: Up to 10-bit
Color Gamut: Rec2020
Audio
Qualcomm® Aqstic™ technology: Qualcomm® Aqstic™ audio codec up to Qualcomm® WCD9385, Qualcomm® Aqstic™ smart speaker amplifier up to Qualcomm® WSA8835
Qualcomm® aptX™ audio playback support: Qualcomm® aptX™ Lossless, Qualcomm® aptX™ Voice, Qualcomm® aptX™ Adaptive
GPU
GPU Name: Qualcomm® Adreno™ GPU
API Support: OpenCL™ 2.0 FP, OpenGL® ES 3.2, Vulkan® 1.1
Charging
Qualcomm® Quick Charge™ Technology Support: Qualcomm® Quick Charge™ 5 technology
Security Support
Fingerprint Sensor: Qualcomm® 3D Sonic Sensor, Qualcomm® 3D Sonic Sensor Max
Secure Processing Unit: Biometric Authentication (Fingerprint, Iris, Voice, Face)
Security Features: Platform Security Foundations, Qualcomm® Trusted Execution Environment & Services, Qualcomm® Type-1 Hypervisor, Qualcomm® wireless edge services, and Premium security features
Wi-Fi Security: WPA3 Easy Connect, WPA3-Enhanced Open, WPA3-Enterprise, WPA3-Personal
Memory
Memory Speed: 3200 MHz
Memory Type: LPDDR5
Process
Process Node and Technology: 4 nm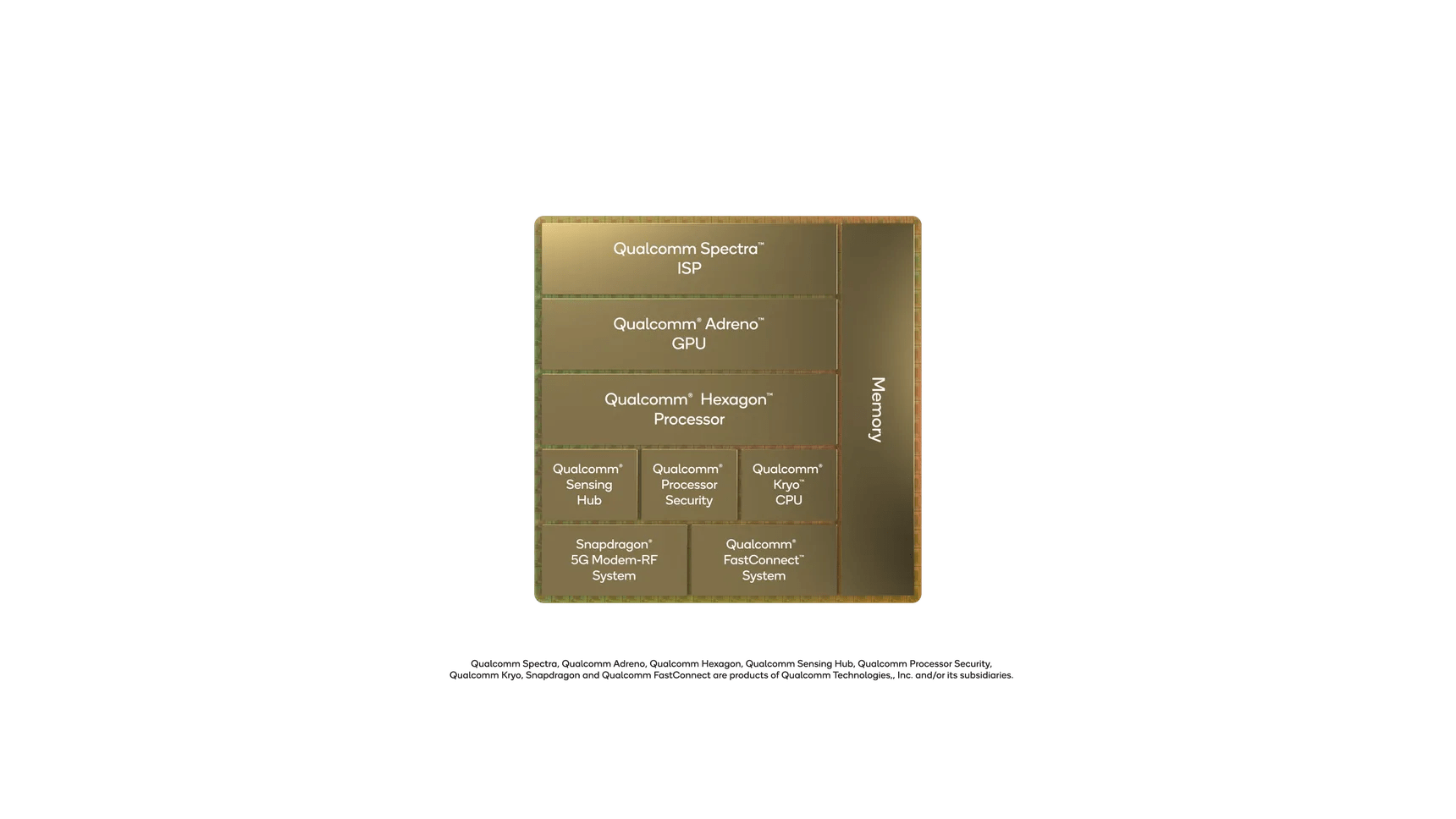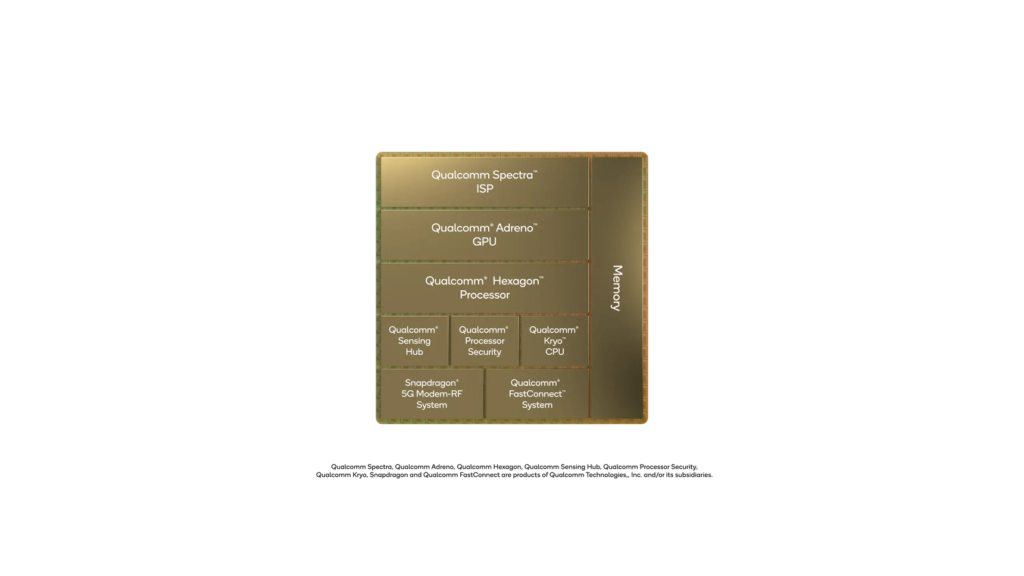 What exactly has changed since the separation of Qualcomm and Snapdragon?
Qualcomm and Snapdragon have been separate brands will be a standalone product brand with specific ties to the Qualcomm brand where necessary.
New colors are brought into function.
The iconic "fireball" will get now visual assets.
New naming structure for the products for making the consumer easier to discover products.
Gold will be used to represent to the premium-trier products.
Badged has been redesigned with a cleaner, modern and straight forward look.
Want to learn how to use these apps for free? Read on!