Today when I was walking back from school, with my AirPods plugged in, my friend asked, "What are you listening to?" "A podcast," I replied. He asked me what a podcast was. Chances are that you too might have asked questions like "What is a podcast?" or "How to listen to a podcast?"
What Is A Podcast?
A podcast is simply a piece of audio, story, interview, documentary, or series that you can download and listen to whenever you want.
Podcasting has been around for more than a decade, but it only became popular and exploded in 2014 with the publication of a series called "SERIAL." And since then, there's now something for everyone from shows about true crime to news, and from comedy to fantasy. Today more than 200 million people are listening each month to the 19 million available episodes from the 800,000 podcasts out there.
How To Listen To A Podcast?
Unlike AM FM radio, podcasts play through apps. You can listen to podcasts through the websites of the respective podcasts, but the easiest way to do so is by using an app. Here's a list of TOP 3 apps to listen to podcasts that I recommend:
1. Apple Podcasts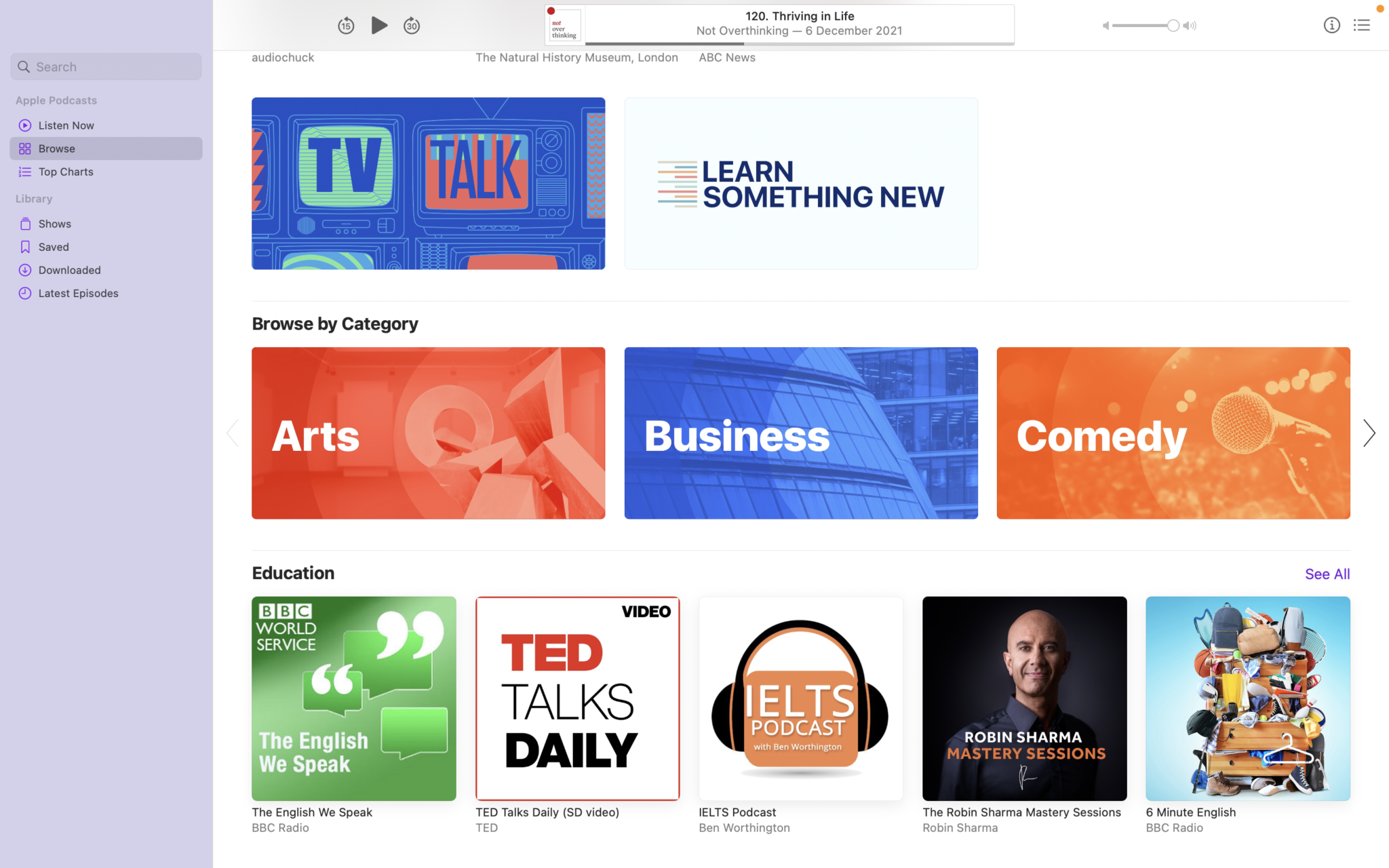 Selection: Over 1 million shows
Price: Free, $1 and up for individual show subscriptions
Devices: iPhones, iPads, and Macs
Exclusive podcasts: Yes
Although the app is intended solely for iOS devices, Apple Podcasts is one of the best and most comprehensive free podcast services out there. The platform has more than 30 million episodes, and you can easily download your favorite podcasts for offline listening.
The unique feature is the ability to sync with Siri. That means you can speak to Siri and request podcast suggestions. You can also listen to Apple Podcasts through Amazon Alexa products by linking your accounts in the Alexa app. This feature lets you use voice commands and seamlessly switch between devices while saving where you left off.
The app also makes it easy to browse podcasts based on different genres and collections selected by Apple. It's easy to find shows of particular interest or get recommendations for "new and notable" titles.
On the search page, you can even find podcasts by topic or by people mentioned in episodes over a show's transcript. It is important to note, however, that a transcript is not available for every podcast.
Playback is easy to control, with the option to rewind episodes in 15 seconds or fast-forward in 30 seconds. You can also play Apple Podcasts via Bluetooth from the app, adjust the audio speed and set a sleep timer for breaks.
Subscribe to a podcast, the app will notify you when a new episode appears. You can also look up reviews from fellow Apple Podcasts listeners to see if a track is a good fit. If you like a podcast, similar content is recommended at the bottom of the main page of the program.
In addition to the free content, Apple recently added select channels and premium subscription options for certain titles. Now you can pay a monthly subscription to unlock exclusive shows or bonus content from your favorite podcasters. Add benefits to your premium podcast subscriptions, including ad-free playback and early access.
2. Google Podcasts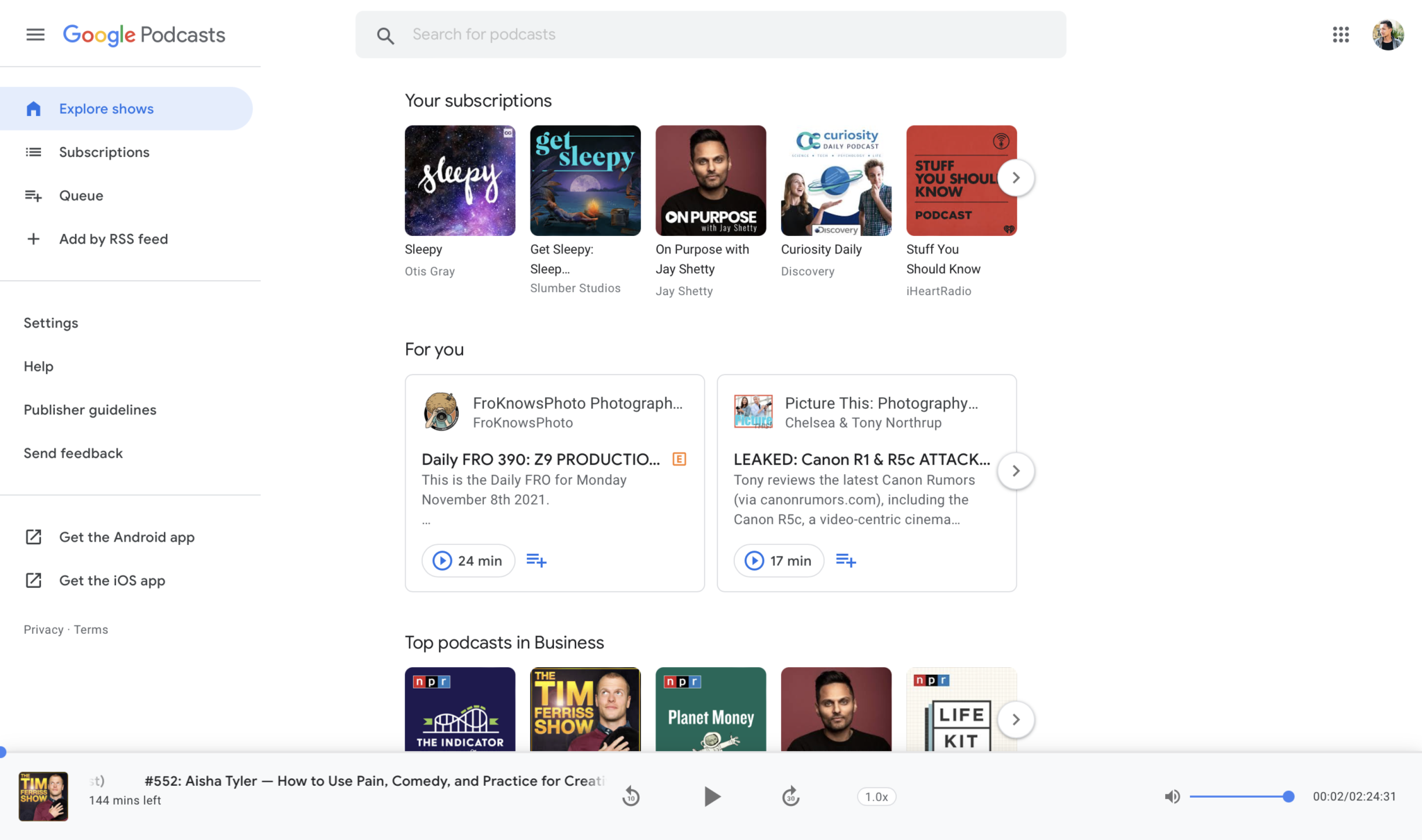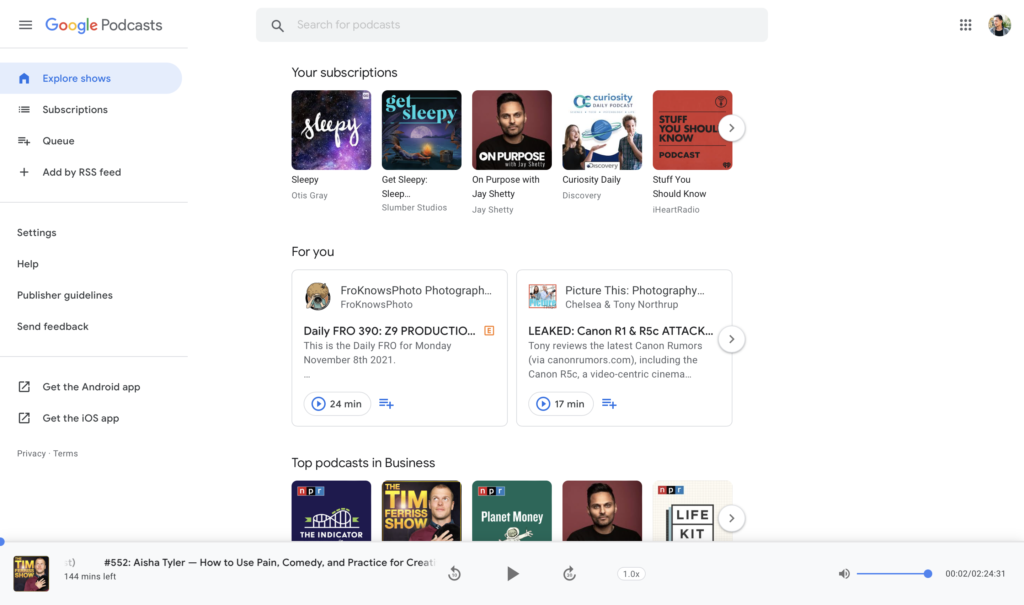 Selection: Not specified
Price: Free
Devices: Web browser, iOS, and Android
Exclusive podcasts:

Yes
Google Podcasts helps you find the best shows for your tastes, with a homepage that guides you to popular podcasts based on genres and trends.
The app hosts many of the same shows as Apple Podcasts, and its user interface invites both newbies and veterans to listen. If a show is not on Google Podcasts, you can add it by entering its RSS feed on the platform.
As with other podcast apps, you can subscribe to shows and download them for offline listening. You can queue up podcasts in a specific order.
One of the unique features of Google Podcasts is the Explore Topics section on an episode page. This section links to Google search results for keywords based on the podcast you are listening to. That means that when you publish Football Weekly, a podcast from The Guardian, you can simply click on the suggestions to find the latest football news from the UK.
If you've listened to a podcast and forgot to save it, you can go to the activity "The tab keeps track of your queue, downloaded episodes, listening history, and subscriptions.
Google Podcasts offers a 30-second fast-forward option along with a 10-second rewind button, a sleep timer, and an option to "trim the silence" on a broadcast. You can also change the speed of an episode and share it with friends. As with Apple Podcasts, transcripts are only available when placed in the description of an episode.
3. Spotify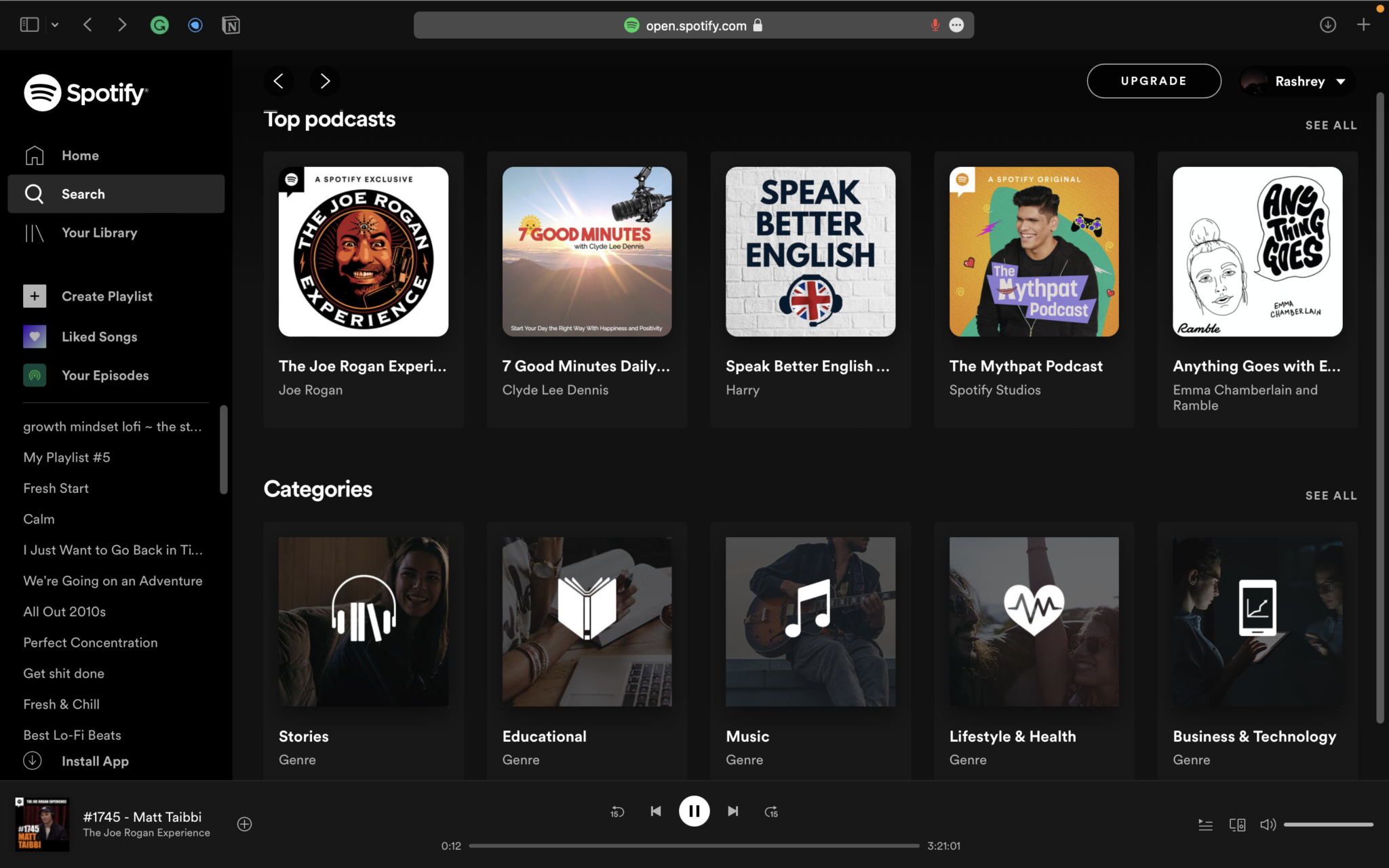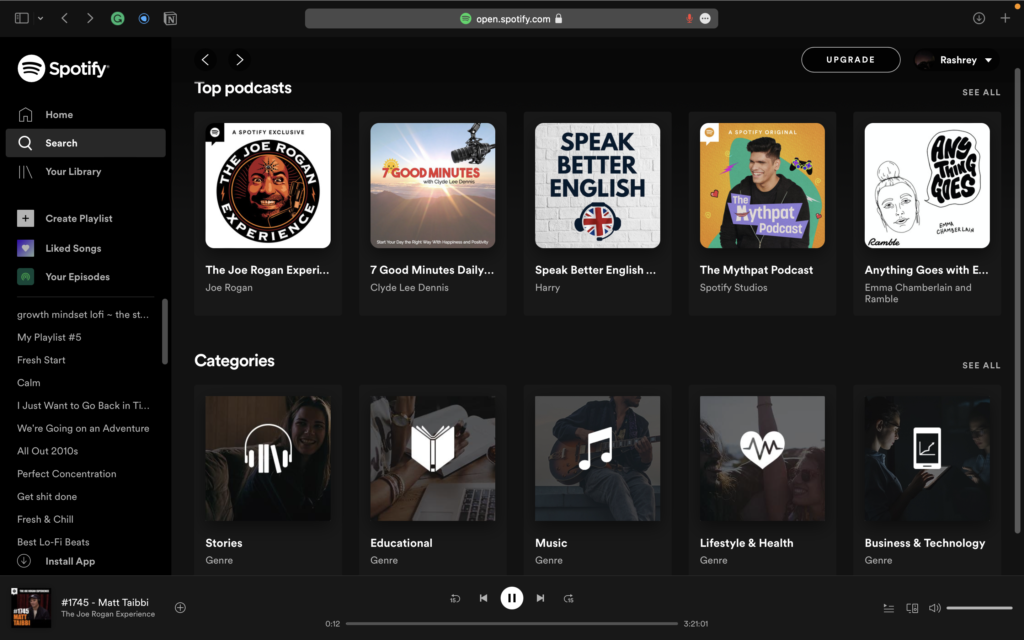 Selection: 2.2 million podcasts
Price: Free (with ads), $10 a month (ad-free)
Devices: Web browser, iOS, and Android
Exclusive podcasts:

Yes
Although Spotify is primarily known as a music streaming service, the platform also offers podcasts, including various exclusive titles. Spotify offers a free option, but you need a paid subscription to get ad-free streaming.
There are several plans for ad-free listening, starting with Spotify Premium for a $ 10 / month account. It is important to note that you can only download podcasts with Spotify if you have Premium.
The app's podcast home page features select collections and genres, including spotlights on some of their original podcasts that you won't find anywhere else. Exclusive Spotify shows include "Renegades: Born in the USA", "The Michelle Obama Podcast" and "Living and Learning with Reba McEntire".
Once you've found a podcast you like, you can "follow" it in the Spotify app. This way you will receive notifications when your favorite show is updated. If you want to discover new shows Based on your favorite podcasts, each show has different categories like "e-entertainment" or "music".
Similar to Apple podcasts, you can listen to your favorite shows on Spotify using any Alexas compatible device such as the Amazon Echo.
Like Google, you can add episodes to your queue and listen to several different episodes in sequence. a playlist of new podcasts to watch.
Once you start playing a podcast, you can change its speed, fast forward or rewind 15 seconds, and set a sleep timer. As with other podcast apps, transcripts are only available when placed in the description of an episode.
Conclusion
Podcasts are the best ways to utilize your time when you're walking somewhere. It is much better and more useful than just listening to random songs. You can listen to them on Apple Podcasts, Google Podcasts, and Spotify.