A few weeks back one of my high school friends told me that he got a domain and a premium subscription for Notion entirely for free. I was literally blown away to know that it was even possible. So I asked him how he did it, and he said "By GitHub Student Pack." I didn't know what it was at the time, but I did a lot of research and now I know exactly what it is. In this article, I'll share with you everything I learned and also how you can get domains and premium subscriptions entirely for free.
So can you get premium subscriptions for free? Yes, you can. You can get a lot of premium services including free domains and premium subscriptions entirely for free with the GitHub Student Developer Pack.
What is GitHub Student Developer Pack?
GitHub Student Developer Pack is a benefit provided by GitHub to help students get real-world experience with free access to various developer tools from GitHub's partners.
This pack gives you access to free access to various tools that world-class developers use. The pack currently contains 103 tools ranging from premium courses, Data Science, Gaming, Virtual Reality, Web Hosting, Domains, Integrated Development Environments, Version Control Systems, Cloud Hosting Platforms, BootCamps, Bootstrap, Code Performance Tools, Graphics and Designing Tools, API hosting, Analytics Services, and a lot more entirely for free.
It offers students free access to all the developer tools that a student needs to learn code or programming, develop on his own, put it on the web, and also the tools to market it for free.
What Are The Requirements To Get GitHub Student Developer Pack?
To get the GitHub Student Pack you must possess the following things:
Be enrolled in a school, college or university, or know someone who does.
Have a verifiable school-issued email address
Have a school document or school ID card that prove your current student status
Have a GitHub user account
How to get GitHub Student Developer Pack?
Step 1: Create a GitHub Account. If you already have one, skip to Step 4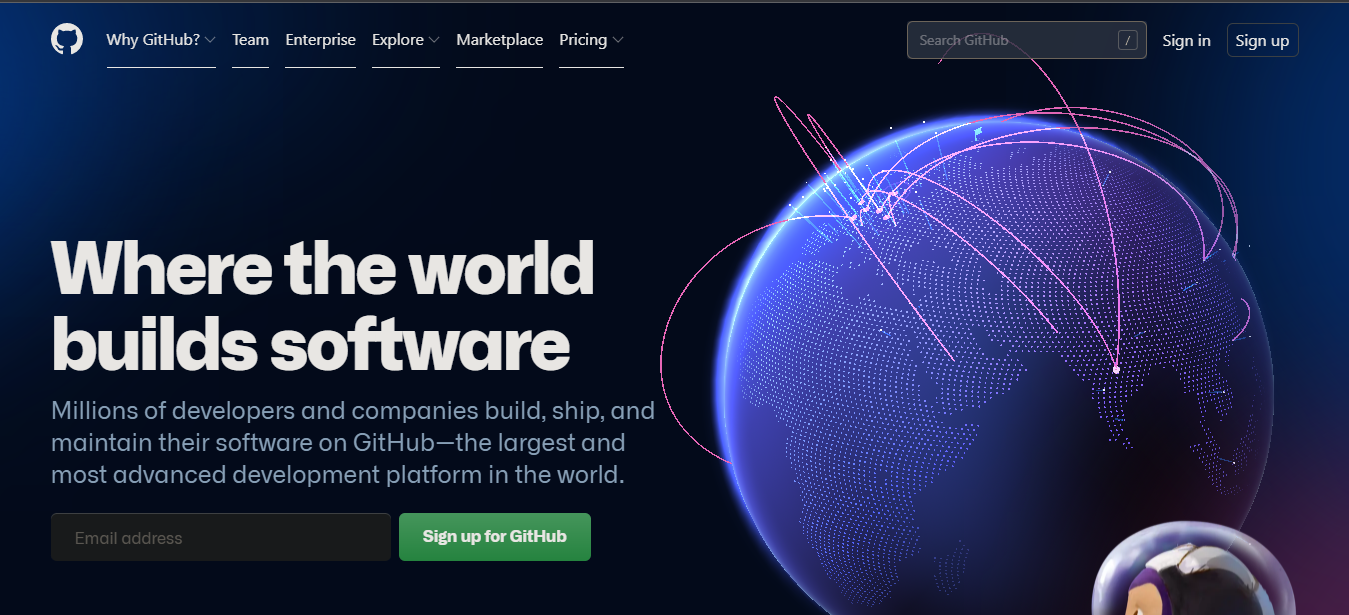 Step 2: Enter your email, password and solve the puzzle and click continue.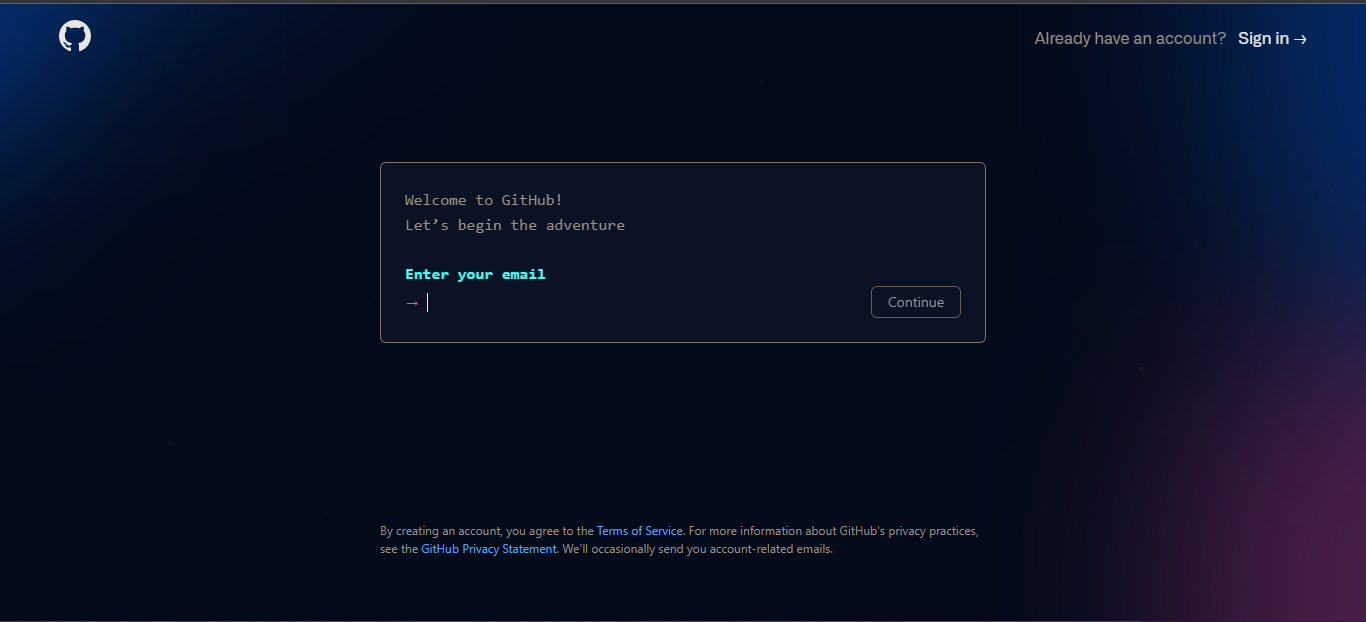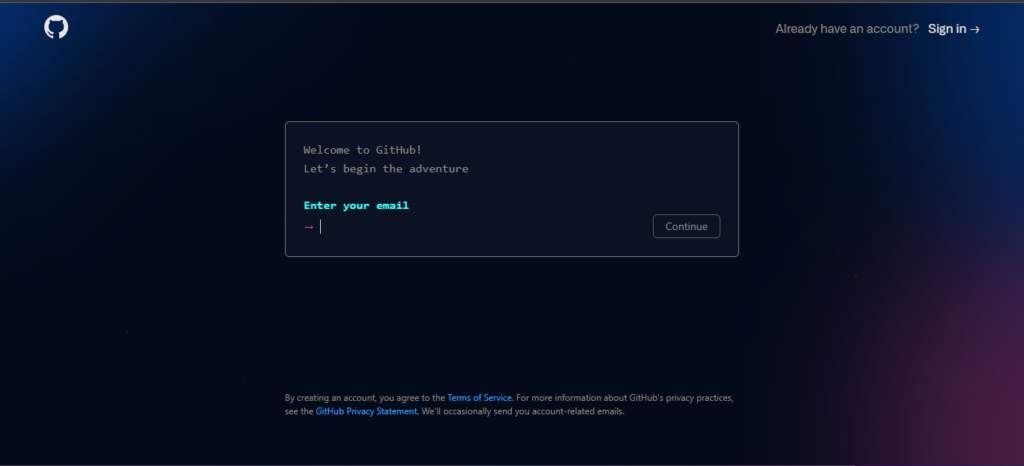 Step 3: Verify the Email
Step 4: Go to GitHub Student Developer Pack.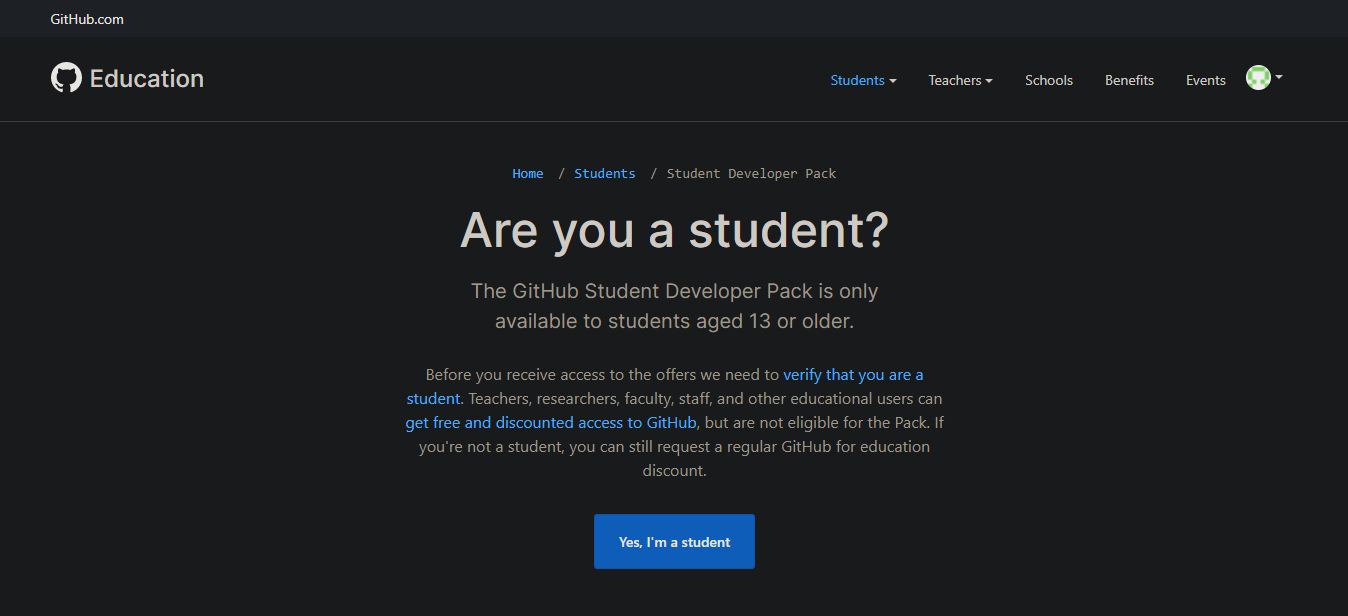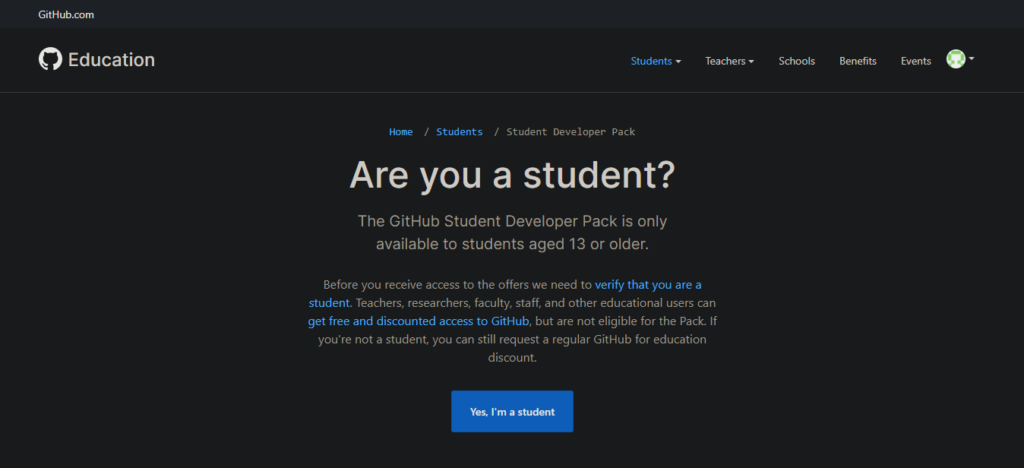 Step 5: Click Sign up Student Developer Pack, then click on the Get student benefits
Step 6: Then Sign in with your GitHub Account
Step 7: Then you will see a form, asking for your school email, school name and how do you plan to use GitHub. Fill all those out and click continue.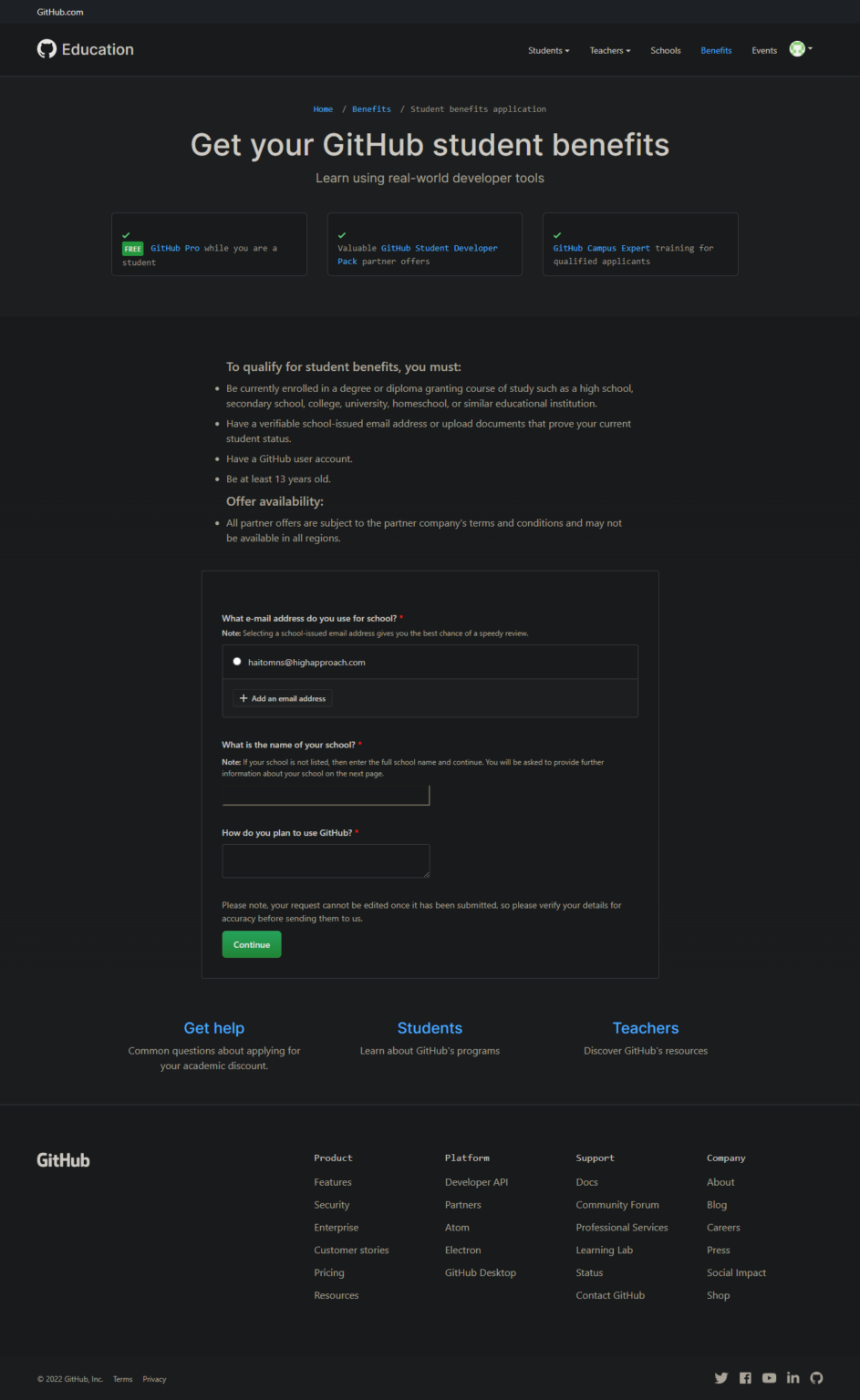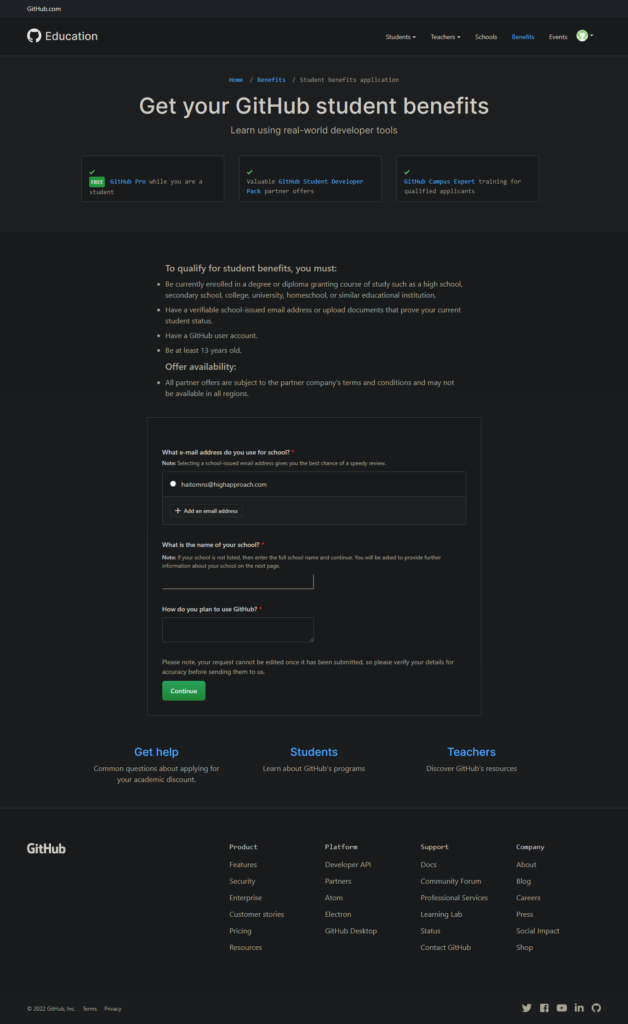 Step 8: Now you need to upload proof of your academic status. Then Select the proof type.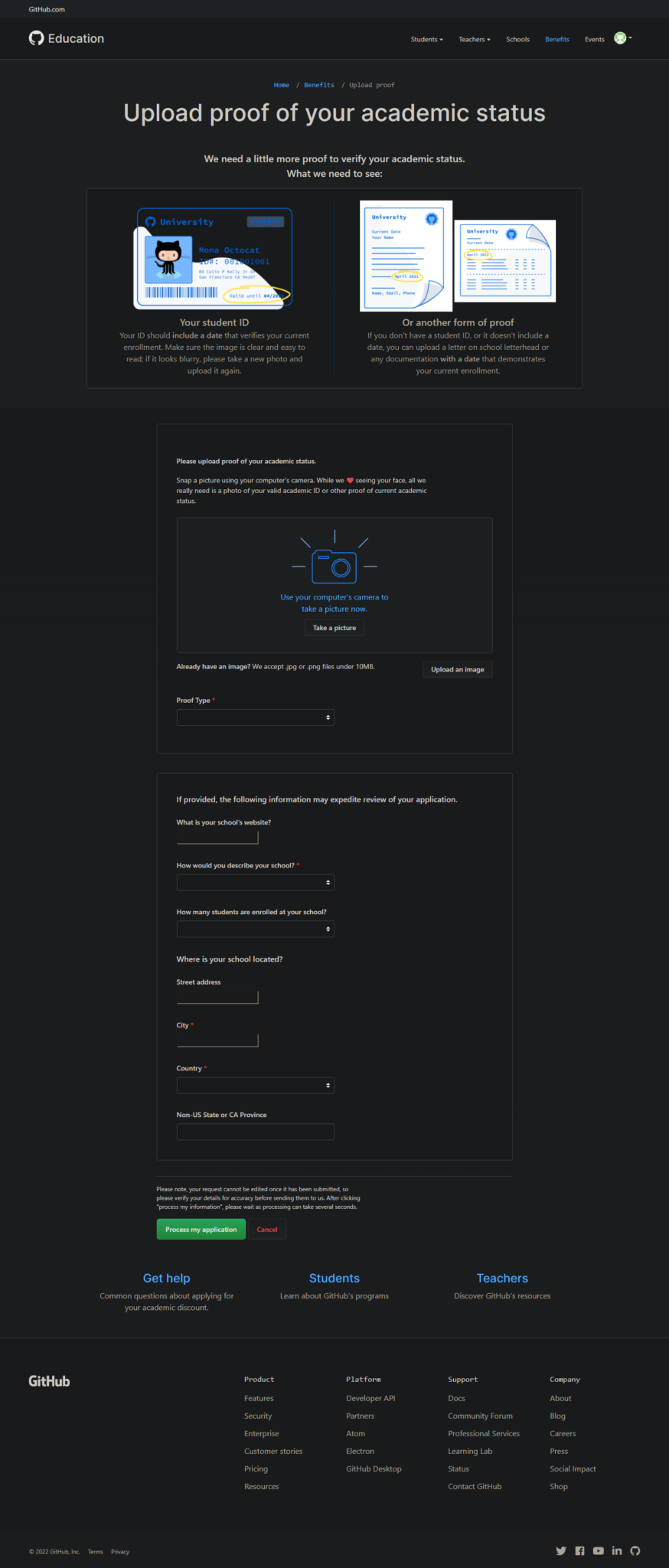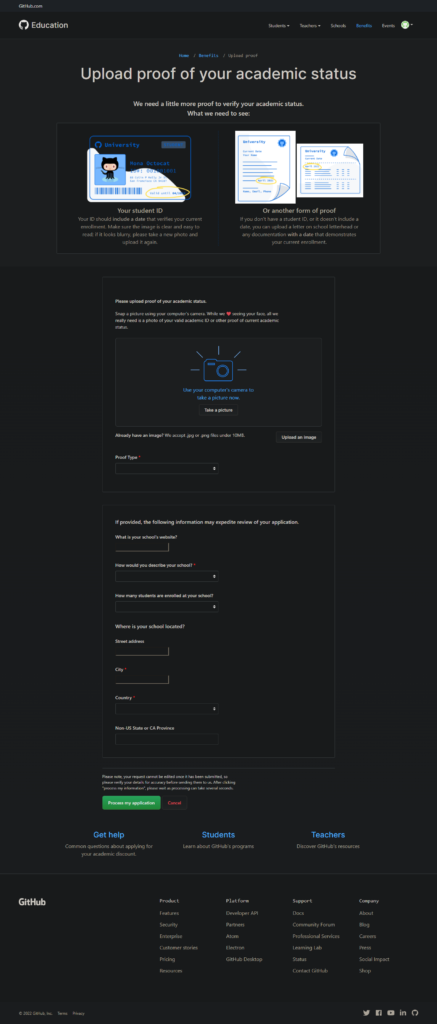 Step 9: If it asks for the School Information then fill all those out. Click on Process my application.
Step 10: You will receive a mail from GitHub Education that your application was recorded.
If your details are true and the document is correct you will get the GitHub Education Developer pack.
Also Read: