5 Practical Ways To Make Money As A Student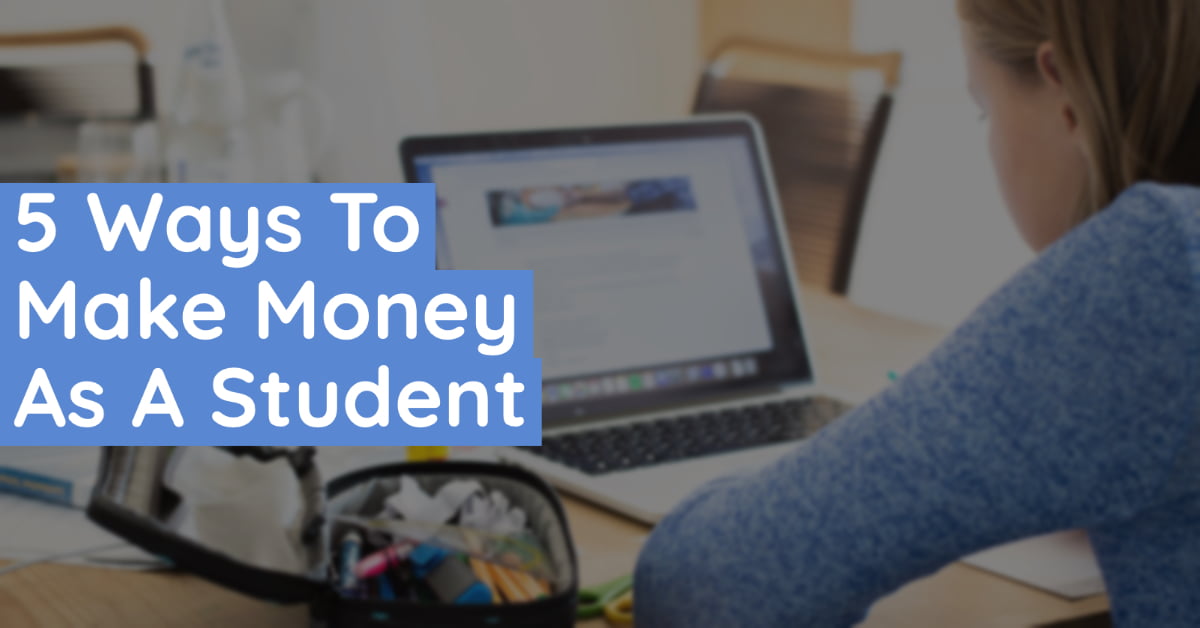 Introduction
When in high school or college, we all want to be independent. Or at least, not have to ask others for money. As a student, it's difficult for us to earn because of all the assignments, essays, and other school tasks we are loaded with. Despite regular means being difficult for us to implement, there are some ways to make some money as a student.
Why You Should Earn As A Student
1. Personal Expenses
Due to inflation, everything is becoming more and more expensive every day. In this situation, asking your family to pay for everything, including your additional needs, might not be very convenient. Having a way to make some money on your own can be very beneficial.
2. Opportunities
When you start earning on your own, whether it be from a part-time job or anything else, you build a lot of connections. Those connections can come in handy in your career for jobs, projects, and several other things.
3. In-field experiences
By working from an early age, you expose yourself to a lot of experiences that can be incredibly valuable when you actually start working after your graduation. These experiences and lessons are needed to become many folds better than your fellow workers and solve problems that may arise during your career.
5 Practical Ways to Make Money as a Student:
1. Tutoring
As students, you have the advantage of fresh knowledge of our syllabus and the ways teachers use to teach you. You can use the same advantage to earn money as a student. You can tutor students of lower classes and charge them a nominal amount. If you home tutor even two students for one hour each every day, you can easily earn enough money for your personal expenditure. This is a practical and very effective way to make money as a student.
2. Freelancing
A lot of people are leaving their jobs after the recent work-from-home period. The freelancing industry has gained more momentum than ever. This is to say that there is a lot of opportunity in freelancing. As a freelancer, you can do several tasks, from data entry to digital art, from photo and video editing to website designing, from translation to app development. With freelancing, you have control of when, how, and from where you want to work.
As students, you can learn a skill related to the field you're most passionate about from YouTube. Then, you can easily monetize those skills and sell your services on freelancing platforms like UpWork, Fiverr, Freelancer, and PeoplePerHour. My personal recommendations are UpWork and Fiverr. You can earn about $8-$15 per hour in the beginning and if you keep up with the good work and get good reviews from your clients, you can make as much as $50 per hour or even more.
3. YouTube
Similar to freelancing, YouTube has also become one of the top picks for people in the current period, and data suggests that this is only going to increase. As advanced technology has become today, you can start a YouTube channel with only your phone. As a student, you can start a channel teaching the things that you learn in school, or if you're interested in vlogging, filmmaking, or if you know things that other people could benefit from, you can use those topics for your channel. Growing on YouTube isn't very difficult, you just need to be consistent enough to post every once or twice a week.
4. Blogging
Blogging has been around for almost as long as the internet itself. It is a very mature sector; many people think that blogging is dead but it couldn't be far from the reality. Blogging still has a huge market and demand on the internet. When in need of assistance with anything, we google how-to's and all the webpage links we see in the google search result are blogs. With the help of Google AdSense and affiliate marketing, you can easily make a good amount of money from blogging. You can blog about a lot of things ranging from habits, finance, technology, news updates, you can also share your notes as blogs. You can also blog about the things that you have learned over time, or know that not everyone else does. There is an audience for almost every niche, you just have to begin.
And the best part is that you don't even need any money to start a blog and monetize it. You can easily start your own blog with Blogger which is google's own platform or use Medium which has become very popular for blogging in recent years.
5. Taking Surveys
It's possible to take surveys and make money. It won't make you financially free, but it can give you a boost when you need it. You can earn between 80 cents to $5 per survey. But some surveys will reward you as high as $10, $20, or even $50.
Websites like Swagbucks, InboxDollars, Survey Junkie, and MyPoints are some popular options to take surveys and make money online.